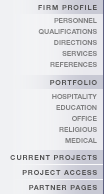 General Office File Upload
Last Updated 22 May 2007 04:23 CST <![if !vml]>
<![endif]>

<![if !vml]>
<![endif]>
General Office Upload Table
To upload files, click "Select" below. You will then be shown a dialog box from your computer. Browse to locate files you want to upload to CP Arch Storage Folder. Click file desired and press Open. File will appear in table below. Continue this process until all files you want to upload are selected and shown in table.
NOTE: If you would like to transfer an entire Folder - Use Select Folder button below. Once all files are in table, press "Upload" button.
In order to use this feature, your computer will have to download some "client" software for the first time use. You will see a Security Warning asking if you would like to download this software. PLEASE SELECT "YES"